An estimated 13,000 job-years are created for each $1 billion in highway construction according to the FTA and White House.
Traffic costs Americans about $1.7 trillion per year:
We can have grade "A" mobility. Restore free markets and mobility will digitizing to replace 25 mpg Model T with:
Last-mile (Bluetooth) solutions of scooters, self-driving cars, etc....
Local Area Networks (WiFi) of JPods, etc....
High-speed between cities (Fiberoptics) of Hyperloops, etc....
Millions of jobs were created digitizing communications into the Internet. Using government estimates, at least 65 million job-years will be created digitizing transportation into the Physical Internet®.
Unlike the Internet, vast numbers of jobs will be in construction and manufacturing.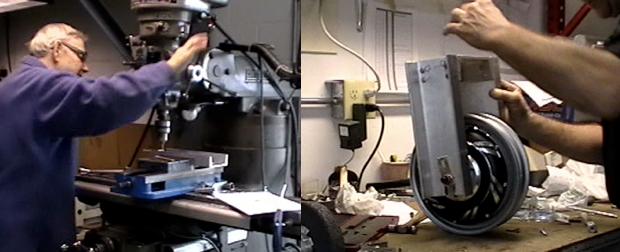 Relative to jobs that will be created by building JPods and Hyperloops here are some articles and studies:
Ohio study: Preliminary details from the study predicted an employment growth in Northeast Ohio of as many as 900,000 jobs, a property value increase of $74.8 billion, increased income of $47.6 billion and a dramatically increased tax base.
Missouri study:  New report claims MO hyperloop could create $3.6B annual boost, 17K new jobs.
Saudi study: Hyperloop to add $4bn, 124,000 jobs in Saudi Arabia.
West Virginia: Branson's Virgin Hyperloop locating $300 million center.
Jobs concentrate around first builds as indicated by:
Omaha with trains.
Detroit with cars.
Silicon Valley with the Internet.
Jobs link at 
www.MorgantownMobilityCompany.com
. If the US government estimate of 13,000 man-years of jobs is correct, building JPods and Hyperloops in the US will create about 65 million job-years. These jobs will range from construction to clerical, to manufacturing, to engineering, to customer service, to software and robotics, etc....  An entire industry will have to be manned. 
Link to paybacks and metrics
.
Because flatland is limited in Morgantown, we will have to choose the jobs that should be placed there. Because JPods is staffed by ex-military people, we think our supply chain should be self-contained as practical.  As we put these facilities in, our ability to create jobs within the space available will define how many jobs are created. Specific sectors:
Design Center and Training Center. Jobs required between 50 between 200 and 1,000 visitors as we bring people to Morgantown to learn how to deploy our networks in their environments. Attached is an image of people I brought to Morgantown from China to learn about PRT. Link to JPods contract in China.
Solar manufacturing. Link to the solar collectors we manufacture in Poughkeepsie, NY (20,000 sq ft). The capital plant we put in Morgantown will be between $10 and $30 million investment and create 20 to 140 jobs.
As we consolidate the supply chain, we would like to expand this manufacturing so it extends from sand to the collectors to electronics, to the energy storage systems.

Electronics manufacturing. This will localize the manufacture of integrated circuit chips, sensors, circuit boards, etc.... Jobs between 30 and 500. Link to technologies I invented in the 1980s to see into and control manufacturing processes. The same "just-in-time" concepts can be applied to the mobility process.
Energy Storage Systems Center. We gather about 40,000 vehicle-miles of power per mile of rail per day. This is substantially more energy than will be required to power many of our guideways. Link to 5 years of data on our collection systems and summary of my patent-pending storage system. Jobs between 30 and 500.
Robotics. Again this is more of a lab than a volume production facility. Jobs between 30 and 500.

Software and networks. Jobs between 30 and 500.
Truss testing and fabrication. This will be more of a lab than a commercial production facility. It will be dedicated to building and testing alternative structures. Jobs required between 50 and 500.
Station Design and Testing. Jobs between 30 and 500.
Rescue-Rail™ Fire Fighting Center. Rescue-Rail is designed for temporary use to mitigate and recover from natural disasters, special events, and military logistics. The mountains in Morgantown provide an excellent environment for building and testing options for the fire fighting version of Rescue-Rail. Jobs required between 50 and 500.
SkyRide™ will likely also like to co-locate its ski resort business. JPods has a robotics contract with SkyRide. Links to:
Wheels, tires, motors, lights, cameras, amenities, elevators, cargoPods™, H20Pods™ (and vast number of other specialty pods), and the list goes on and on. What part of these jobs can be in Morgantown will have to be discovered.
The children of Morgantown will grow up with and WVU students will be immersed in this wave of technology. JPods will need to hire such experts.
Because we will have JPods for local mobility and Hyperloops for connecting to other facilities, Morgantown's location can be compensated to spread out the job centers so as not to overload Morgantown. We can tailor our effort to meet the wants of the community.